Toll Violation?
Contact the FBCTRA Violation Payment Center
Monday – Friday: 8:00 AM – 5:00 PM
Saturday – Sunday: CLOSED
Toll Free: (855) 999-2024
Website: FBTRCSC.com
ELECTRONIC TOLL TAG ONLY – NO CASH, NO PAY BY MAIL
Traveling on the Toll Roads
To use any of the toll roads in Fort Bend County a vehicle must have a valid electronic toll tag issued by any one of the toll agencies in Texas. These include:
How do Toll Violations Occur?
A motorist driving on the toll roads without one of the electronic toll tags mentioned above may be issued a citation for "Failure to Pay Toll".  When a vehicle passes through a toll plaza without a valid electronic toll tag, photographs of the license plates are taken to identify the vehicle. The registered owner of the vehicle will receive a Toll Violation Notice by first class mail.  If you do not have an electronic toll tag and accidentally travel the road, you may call the Violation Payment Center at (855) 999-2024. Future travel will require a toll tag.
How Much Can a Violation Cost?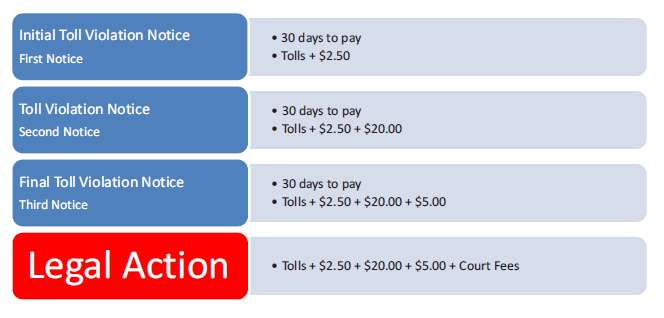 How to Avoid Toll Violations
More Information
For detailed information on all Fort Bend County Toll Roads, plaza locations and toll rates, visit the links below: