On February 18, 2018 Fort Bend County Toll Road Authority (FBCTRA) will implement a trip building process for toll tag transactions to reduce operational costs. A "trip" is defined as two (2) or more valid AVI (tag) transactions on a single roadway, in a single direction, within a maximum 4-hour time limit. For example, if you traveled the entire southbound length of Grand Parkway, currently you would see seven (7) $0.35 transactions on your toll tag statement. The trip building process would combine those seven (7) valid tag transactions into a single transaction showing as one (1) $2.45 transaction (7 x $0.35 = $2.45) on your toll tag statement. There is no additional cost or surcharge to the customer, just a new way to view the transactions on your toll tag statement.
FBCTRA will host a website WWW.MYFBCTRA.COM where you can view the individual transactions within each trip shown on your toll tag statement. Below is an example of the trip you will see on your statement – note that it will state 'Trip End' on the transaction if it is a trip (highlighted in below HCTRA example).

You will use data found on your toll tag statement to login to WWW.MYFBCTRA.COM to view the individual transactions in the trip.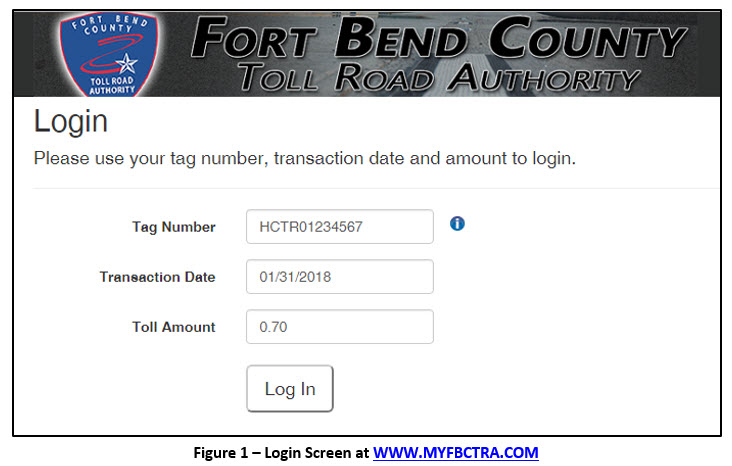 Once logged in, you may view the last 90 days of transactions (trips and individuals) and even export to excel for easy viewing.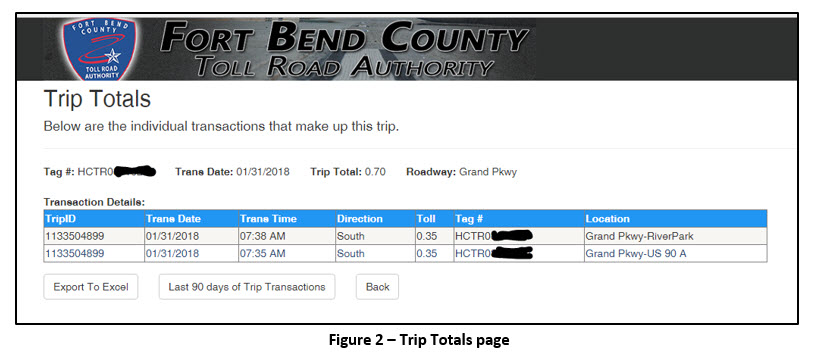 If there are further questions, please contact info@fbctra.com or 832-735-7385.